This is the 2nd profile in our FIERCE & Fascinating series which spotlights the amazing people I have come to know and adore online. Get to know someone new each week as I profile some of Social Media's most FASCINATING people! ~ tamara
Name:
Sharon DeVellis
Job/Business:
Freelance Writer
Get to know her on
Twitter
Quick bio about her fascinating self:
I'm pretty much like everyone who might be reading this – a woman who's trying to juggle life, work and family while still finding time for the things that light up my life. Right now those lights are writing and speed skating.
I'm happily married to a wonderful man and have two kids who I refer to as Son No. 1 and Son No. 2. Those names are based on birth order, not on who I like best. I feel I need to say that in any interview I do because one day they will google themselves.
I have two blogs. One is called
The Inside Scoop
which has nothing to do hysterectomies. The other is called
Speed Skating Mom
which also has nothing to do with hysterectomies. Not that I have anything against hysterectomies. I may actually need one at some point and if I do, clearly I already have the perfect blog name for when it happens. In the meantime, my blogs are about my life and how I'm attempting to speed skate at the age of 41.
What's one thing that most people don't know about you?
That I'm an introvert. People often assume I'm outgoing but I actually prefer one-on-one chats or small groups.
*cough* Yes Sharon you were super shy when I finally met your seksi ass in person :D
(l-r) Lisa Thornsby, moi, the introverted Sharon DeVellis,
and Maria Lianos-Carbone finally meet in person
at BlissomCanada after a 3-year online relationship.
Who is the most interesting person you have met? What's the story there?
Oh my gosh, there is no one person because everyone, EVERYONE, has a unique and amazing story of some kind. If we all take the time to stop and listen you'll be surprised at the fascinating stories you'll hear.
What Sharon really means is that I was the most interesting person she had ever met and that we just never got enough time together in Toronto to finally get some good stories going. Right Sharon? AmIright?
If you could tell your 16-year-old self something, what would it be?
Don't ever dumb yourself down so other people will like you because if they only like you when they think you're not smart, they're not someone you want in your life.
What are you doing to make a difference?
Living my life by example. It's so important we don't just talk the talk, we walk the walk. Women, most especially moms, need to stop putting themselves last. There is no selfishness in wanting to pursue dreams and passions. Think about it.
Would we ever sit down and tell our children that they can follow their dreams but first they need to ensure everyone else in their life is happy and only then can they get on with the dream chasing.
Yet this is what we do. We put ourselves last thinking there will always be time somewhere in future. Only the future isn't a guarantee, is it? So we need to go out and live our lives to the best of our ability. This isn't a dress rehearsal – we only get one shot at it.
*cue Eminem* You only get one shot, do not miss your chance to blow
This opportunity comes once in a lifetime yo... What does Eminem mean by missing your chance to blow... because in MY pervy little mind... wait what?! Carry on, nothin' to see here!
My favourite quote from a movie/song lyric is:
It's not having what you want, it's wanting what you've got. Sheryl Crow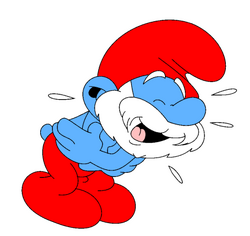 If I were a Smurf I would be

blue

.
Tattoos: What do you have and what do they symbolize?
I have a maple leaf inside a circle with the words "Made in Canada" - it symbolizes how stupid I was at 24-years-old to put a tattoo in the place that would stretch the most during my pregnancies. It's practically an oval with a tree now.
Do you believe in monogamy?
Absolutely! Although I prefer oak or a nice maple, particularly with a rustic finish. Oh wait… Yes.
OMG hahahah I love you Sharon
One thing I have zero tolerance for is
drinking and driving, and distracted driving in general.
Come up with an acronym for FIERCE (be as saucy as you like!)
Fiesty Interested in what others have to say Eager to learn Resilient Candid Eclectic
Is there someone you think should be featured for FIERCE & Fascinating? Let me know!
Previous FIERCE & Fascinating:
Dana McCauley